Workshop with Marie Orsini-Rosenberg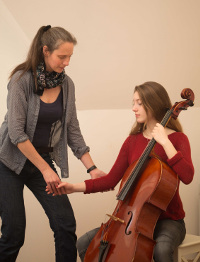 Alexander technique can help musicians of all instruments and abilities to eliminate tension or stage fright. It can even improve the sound of your playing.
In this short workshop, you will get a first idea of how Alexander technique works and how it can be integrated into learning any instrument. Marie will not demonstrate any body positions, but will assist you in finding good stability and flexibility yourself.
Please note that the course will be held in German language. For more details on the programme and registration, please visit the German page.