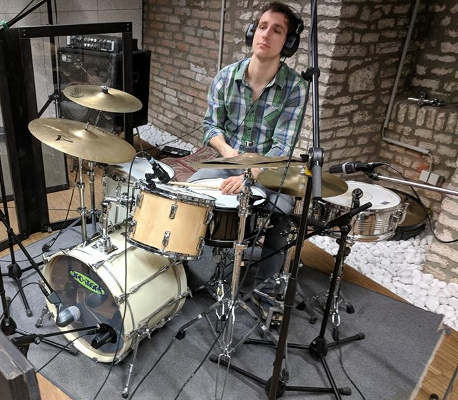 Drumming With Passion
You want to learn the drums or improve your abilities on the kit?
Then you are right here.
Have you got some inputs from your musicians as: play the "back beat" more in front, play the groove more "laid back", or this song is "shuffled" and you had no idea what they are talking about?
I show you what you need to be a good band drummer and how versatile the drums are in general.
Because of my long experienced learning/practicing/teaching process and playing a lot of different types of music I see myself as a music-couch who works together with you on your goals without never forget to have fun to play drums.
About me:
I've started playing drums in the age of 10. As I was 18 I studied at the Vienna Conservatory with Dieter Herfert and Christoph Sztrakati. After passing performance and teaching departement with honors I've studied one more year at MUK with Walter Grassmann before I've started focusing on my passion: playing music!
Already in younger age I've played and play with austrian artists as Marianne Mendt, Richard Oesterreicher, etc.
International I played from Romania, Slovakia, through Budapest (István Gyárfás), the canary islands (Enrique Thompson) until Moscow where I've played 2 times a couple of concerts with the Julia Perminova Trio.
I'm a founding member and was band member for 2 years of the Hip Hop Band SWANKSTER, which I also recorded their debut album with.
Currently I'm playing with Gini (Lampl), the salsa band La Sonora and play or played with artists as: Helene Fischer (Opening show Lanxess Arena), James Cottriall, Yasmo (und die Klangkantine), J.Hoard (NYC), etc.
| | |
| --- | --- |
| Instruments | Drums |
| Genres | Improvisation, Jazz, Latin, Pop, Reggae, Rock, Hip-Hop, Funk/Soul |
| Languages | German, English |
| Location | Vienna |
| Teaching levels | Beginner, Advanced |
| Age groups | Children, Adults |
| Rate | 30 Euro / 50 Min. |
| Free trial lesson | No |
| Semester discount | Yes |
| Lessons at home | Yes |
| Online lessons | Yes |
| Lessons on weekends | No |
| Early education | No |
| Group lessons or family classes | Yes |
| Chamber music | No |
| Theory classes | No |
| Aural training | No |
| Rhythmics | Yes |
| Buying advice for instruments | Yes |
| Preparation for entrance exams | Yes |
| Academic degree | Yes |