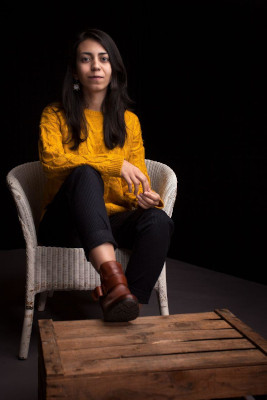 Music is the literature of the heart; it commences where speech ends.
Temporarily this content is available in German only.
Maryam Gharibdoost ist Pianistin und Musikpädagogin. In Teheran, Iran geboren, begann sie ihre pianistische Ausbildung im Alter von 8 Jahren. Sie studierte Klavier an der Haupt-Kunstuniversität in Teheran mit dem Abschluss Bachelor of Arts.
2016 übersiedelte sie nach Wien und setzte ihre Ausbildung am Konservatorium für Instrumental- und Gesangspädagogik bei Mag. Nelly Banova fort. Seit 2009 gibt Maryam Gharibdoost Klavierunterricht für alle Altersgruppen und Niveaus. Im Rahmen Ihrer Lehrtätigkeit erstellt sie Individuelle Unterrichtskonzepte. Der Unterricht umfasst neben der instrumentalen Ausbildung, auch Tonsatz, Gehörbildung sowie Musiktheorie.
Maryam Gharibdoost lebt und arbeitet in Wien.
| | |
| --- | --- |
| Instruments | Piano |
| Genres | Classical |
| Languages | German, Persian |
| Location | Vienna |
| Teaching levels | Beginner, Advanced |
| Age groups | Children, Adults |
| Rate | 25 Euro / 50 Min. |
| Free trial lesson | Yes |
| Semester discount | Yes |
| Lessons at home | Yes |
| Lessons on weekends | Yes |
| Early education | Yes |
| Group lessons or family classes | No |
| Chamber music | No |
| Theory classes | Yes |
| Aural training | No |
| Rhythmics | Yes |
| Buying advice for instruments | Yes |
| Preparation for entrance exams | No |
| Academic degree | Yes |