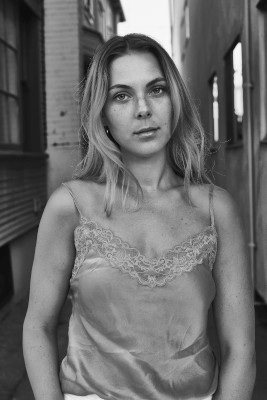 find new confidence through discovering your authentic voice
Singing should feel effortless and bring joy. No matter if you only recently decided to take your talent beyond the shower curtain or you already have experience wowing the crowd from on stage, I am looking forward to exploring your sound with you further. As an experienced singer/songwriter and through my work as a vocal coach for all ages and levels, I know that singing is the most individual and intimate form of musical expression. Therefore I am committed to creating a safe and relaxed environment for my students, in which they feel supported to establish a healthy vocal technique, which allows them to master any song of their choice. This is achieved through a holistic approach of understanding the chain of reactions in our body in order to produce sound and strengthening our confidence and trust muscle as vocalists.
Focus:
– socialized in R&B, Pop, Jazz, but happy to assist with all genres
– Establish practice routine: warm up, technique, repertoire
– By request: music theory, songwriting, stage coaching, artist branding
– Holistic approach incorporating mind and body
Education:
2000 – 2012 classical piano lessons
– Monika Hildebrand, Dr. Werner Pelinka
2004 – 2012 Wiener Musikgymnasium
2009 – 2012 Vienna Konservatorium
– jazz singing (Eva Maria-Valenta)
– saxophone (Sandro Miori)
2012 – 2016 Berklee College of Music
– Bachelor in Performance
– Bachelor in Music Business/Management
2016 – 2018 in New York City
– songwriter for mar|co, Pat Lok, Sammy Bananas
– gigs at Rockwood Music Hall, Bowery Electric, SXSW, WayHome Festival, etc.
– Music Business/ Marketing Consultant
2018 – 2020 in Los Angeles
– Voice and piano instructor at Tiffany's Music Academy and private
– Release of debut solo EP "Body"
– Studio sessions
– Gigs at Hotel Café, Adults Only, Winston House Madame Siam, etc.
| | |
| --- | --- |
| Instruments | Vocals |
| Genres | Jazz, Pop, Singer/Songwriter, R&B |
| Languages | German, English |
| Location | Vienna |
| Teaching levels | Beginner, Advanced |
| Age groups | Children, Adults |
| Rate | 45 Euro / 50 Min. |
| Free trial lesson | No |
| Semester discount | Yes |
| Lessons at home | Yes |
| Online lessons | Yes |
| Lessons on weekends | Yes |
| Early education | No |
| Group lessons or family classes | Yes |
| Chamber music | No |
| Theory classes | Yes |
| Aural training | Yes |
| Rhythmics | Yes |
| Buying advice for instruments | Yes |
| Preparation for entrance exams | Yes |
| Academic degree | Yes |