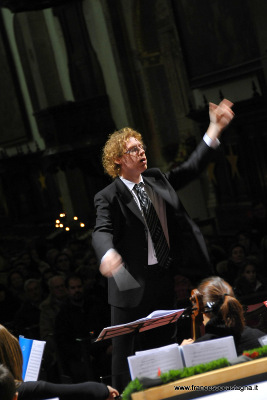 Discovering a new world by every note
Would you like to learn to play the Violin? With my lessons, I propose to let you experience the joy and satisfaction of playing beautiful music and to introduce you to the fascinating world of meanings, images and emotions that are hidden behind the notes.
An instrument requires commitment and I will be at your side with patience and dedication on this journey of discovery. Feel free to contact me, I'm looking forward to meeting you!
A few words about me:
A Versatile musician and precocious talent, after the Diplomas in Violin and Composition, with honours, at the Conservatory of his hometown Padova, Stefano Torchio graduated with "mit Auszeichnung" Master Degrees in both Orchestral Conducting and Choir Conducting at the Universität für Musik und darstellende Kunst in Vienna. The meeting with important interpreters and teachers like U. Lajovic, R. Heintze, E. Ortner and T. Lang was decisive in his formation. Masterclasses and seminars by international renowned Maestri like Z. Metha, F. Luisi, S. Young, B. de Billy, J. Schläfli, G. Andretta, G. Gelmetti and R. Muti and Composers like A. Corghi, C. Ambrosini and I. Fedele he took part by important musical institutions such as the Accademia Musicale Chigiana of Siena, the Foundation "R. Romanini" of Brescia and the Academy "L. Perosi " of Biella are equally significant.
As and Orchestra and Choir Conductor, Head of Music and performer, he carries out an intense concert activity and cultural promotion in the territory of Vienna. During this activity, he has curated, among others, several premières of his own works and of other Composers'. He was awarded or finalist at important international composition competitions and dedicated himself to the training of young talents, as a teacher of Orchestral Training and Conductor of the Youth Orchestra at the Music School "Echi e suoni per Montagnana". Furthermore, he sings as a Tenor within "Arnold Schönberg Chor" of Vienna.
| | |
| --- | --- |
| Instruments | Violin |
| Genres | Classical |
| Languages | German, English, Italian |
| Location | Vienna |
| Teaching levels | Beginner, Advanced |
| Age groups | Children, Adults |
| Rate | 35 Euro / 50 Min. |
| Free trial lesson | No |
| Semester discount | No |
| Lessons at home | Yes |
| Lessons on weekends | Yes |
| Early education | Yes |
| Group lessons or family classes | Yes |
| Chamber music | Yes |
| Theory classes | Yes |
| Aural training | Yes |
| Rhythmics | Yes |
| Buying advice for instruments | No |
| Preparation for entrance exams | Yes |
| Academic degree | Yes |