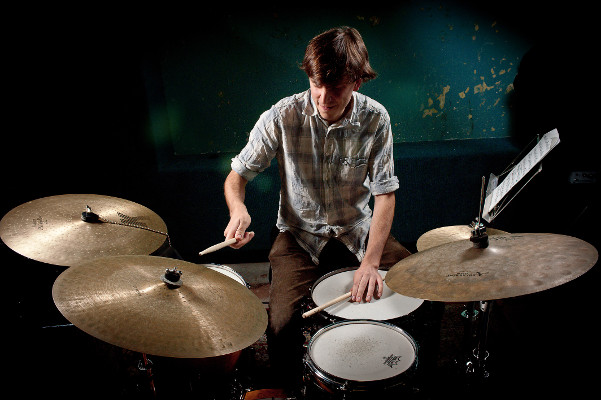 Drummer, composer and bandleader originally from the US and now based in Vienna, he is most notably known as the bandleader and composer for Led Bib.
With Led Bib, he was nominated for the Mercury Music Prize 2009 (One of 12 albums of the year) and he was also a winner of the Peter Whittingham Jazz Award 2005. Led Bib have topped college radio charts across the US and Canada and have played live across TV and radio in Europe including BBC 2, Channel 4(UK), WDR, BBC Radio 1, BBC Radio 2, ORF(Austria), XFM, Radio 1 (Prague), BBC Radio 3, Radio 6(NL) ,BBC Radio 4 and many more. They have released 8 albums and have toured to some of the highest profile festivals in Europe including North Sea Jazz Festival, Jazzfestival Berlin, London Jazz Festival, Saalfelden Jazz Festival and many others.
Holub is also active in other projects including 'Blueblut' a power trio with Pamelia Kurstin – theremin and Chris Janka – guitar who have toured across Europe, Japan and South America and are about to release their 3rd album, Falb/Holub/Satzinger a free jazz sax trio from Vienna, Perlin Noise, a contemporary classical/improv ensemble led by Sicilian composer and double bassist Alessandro Vicard, and he also features regularly on the improv scene with various collections of players including work with Colin Webster, Irene Kepl and many others.
As a teacher, Mark encourages drummers to find their individual voice on the instrument based on their own personal interests. The lessons focus obviously on groove and technique, but also on touch and getting the right feel. Lessons are available for beginners to advanced players and can either take place at the student's house or in my studio in the 7th district.
| | |
| --- | --- |
| Instruments | Drums |
| Genres | Blues, Improvisation, Jazz, Rock |
| Languages | English |
| Location | Vienna |
| Teaching levels | Beginner, Advanced |
| Age groups | Children, Adults |
| Rate | 35 Euro / 50 Min. |
| Free trial lesson | No |
| Semester discount | Yes |
| Lessons at home | Yes |
| Lessons on weekends | Yes |
| Early education | Yes |
| Group lessons or family classes | Yes |
| Chamber music | Yes |
| Theory classes | Yes |
| Aural training | Yes |
| Rhythmics | Yes |
| Buying advice for instruments | Yes |
| Preparation for entrance exams | Yes |
| Academic degree | Yes |