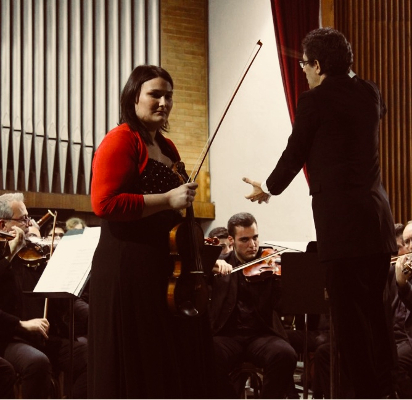 "Do what you can with what you have where you are"
Hi!
I'm an italian violinist, Student of Dora Schwarzberg by "Accademia di musica di Pinerolo" and graduated from "V.Bellini" conservatory with Full Marks. In the last years I got the chance to travel a lot learning from some of the best teachers in Europe (B.Belkin, M.Sciarretta, I.Petrushevski, L.Chisson, A.Kandinskaya, F.Manara, A.Pinzaru, S.Bernardini, A.Winokurov, etc…) I've been rewarded first prize in many national competions (Premio "S.Gioia", "Città di Palermo", "barcellona pozzo di gotto", etc..) And collected many experiences both as orchestra member and soloist.
I really love teaching and It would be my pleasure to share with you everything I discovered until now.
I can teach you in Italian, English, or German, and I promise we will both have a lot of fun ?
Have the best day! Chiara
| | |
| --- | --- |
| Instruments | Violin |
| Genres | Classical |
| Languages | German, English, Italian |
| Location | Vienna |
| Teaching levels | Beginner, Advanced |
| Age groups | Children, Adults |
| Rate | 25 Euro / 50 Min. |
| Free trial lesson | Yes |
| Semester discount | No |
| Lessons at home | Yes |
| Lessons on weekends | Yes |
| Early education | Yes |
| Group lessons or family classes | Yes |
| Chamber music | Yes |
| Theory classes | Yes |
| Aural training | Yes |
| Rhythmics | Yes |
| Buying advice for instruments | Yes |
| Preparation for entrance exams | Yes |
| Academic degree | Yes |