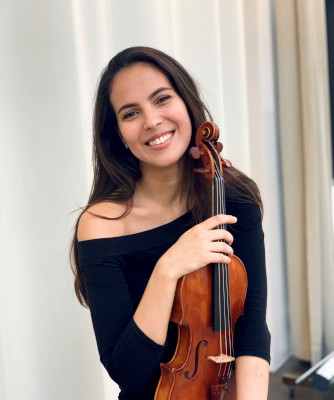 Experienced Violin Teacher – Glad to teach this beautiful instrument to students of any age and level
Born in 1994 in Setúbal Portugal, she obtained her Bachelor of Arts degree at the Amsterdam Conservatory, Holland, where she studied with Prof. Ilya Grubert and Eliot Lawson.
She is currently doing her Master Degree in Performance at the University of Music and Arts in the city of Vienna, Austria where she studies with professor Boris Brovtsyn.
As soloist she is managed by the agency Showcase – Artway Culture and Arts.
During her career she obtained several distinctions and was awards in National and International Competitions.
She was 1st prize winner at the José Augusto Alegria Prize; National String Competition Vasco Barbosa and International Competition of the City of Fundão.
Josefina has an extensive orchestral experience, having played in renowned orchestras such as the European Union Youth Orchestra, Gulbenkian Orchestra; Portuguese Symphony Orchestra; Portuguese Chamber Orchestra; Klangvereinigung Orchestra among others.
As a soloist she performed with the Portuguese Symphony Orchestra, Youth Symphony Orchestra and Northern Orchestra.
Together with the pianist Gonçalo Simões, she forms the chamber music Duo : Duo Concentrico.
Feel free to contact me if you have any questions or would like to see my Curriculum Vitae/Performance Recording
| | |
| --- | --- |
| Instruments | Violin |
| Genres | Classical |
| Languages | English, Portuguese |
| Location | Vienna |
| Teaching levels | Beginner, Advanced |
| Age groups | Children, Adults |
| Rate | 30 Euro / 50 Min. |
| Free trial lesson | Yes |
| Semester discount | Yes |
| Lessons at home | Yes |
| Online lessons | Yes |
| Lessons on weekends | Yes |
| Early education | No |
| Group lessons or family classes | No |
| Chamber music | Yes |
| Theory classes | No |
| Aural training | No |
| Rhythmics | Yes |
| Buying advice for instruments | Yes |
| Preparation for entrance exams | Yes |
| Academic degree | Yes |