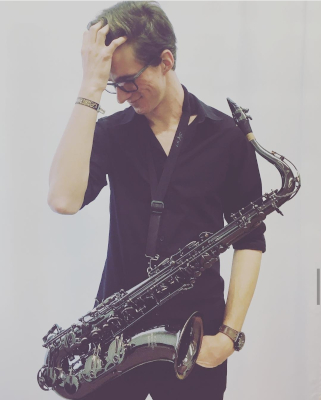 Super energetic – unique saxophone teacher
Hello, my name is Zsombor and I would be pleased to be your saxophone/recorder teacher. I study saxophone more than 13 years now, and I have  tons of experience on the stage (bands, orchestras and all kinds of concerts).
I give private teaching lessons more than 4 years, and this brings me and to my students also a lot of fun and at the end a lot of knowledge.
When I teach I always look for what does my student require. For example, I go prepared to the lesson, but the student is not up for the task I ask or it's just not what she/he is looking for then we go to and find another way to get better on the instrument, even if it's "only" just improvising to one another. 😉
Since I teach more than 4 years, I had adults and children in my class as well, so I know what do the different students need. 🙂
| | |
| --- | --- |
| Instruments | Saxophone, Recorder |
| Genres | Alternative, Blues, Electronic, Folk, Improvisation, Jazz, Classical, Metal, Pop, Reggae, Rock, World |
| Languages | German, English, Hungarian |
| Location | Vienna |
| Teaching levels | Beginner, Advanced |
| Age groups | Children, Adults |
| Rate | 35 Euro / 50 Min. |
| Free trial lesson | Yes |
| Semester discount | Yes |
| Lessons at home | Yes |
| Online lessons | Yes |
| Lessons on weekends | Yes |
| Early education | Yes |
| Group lessons or family classes | Yes |
| Chamber music | Yes |
| Theory classes | Yes |
| Aural training | No |
| Rhythmics | Yes |
| Buying advice for instruments | Yes |
| Preparation for entrance exams | Yes |
| Academic degree | No |