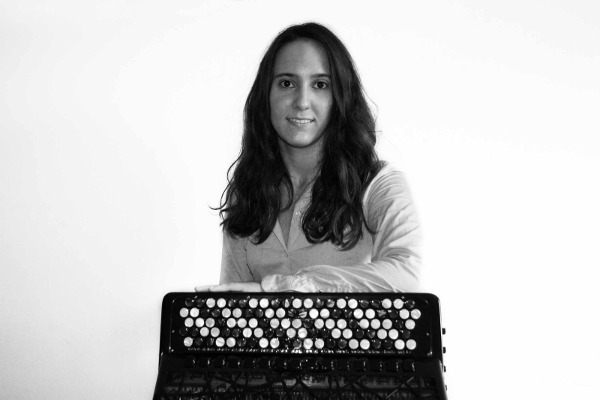 Die Freude am Akkordeonspielen und Musik entdecken
Temporarily this content is available in German only.
Möchten Sie Akkordeon lernen? Ich bin Maria, und ich biete privaten Akkordeon Unterricht an. Der Einzelunterricht wird ganz auf euch/dich abgestimmt, alle Stile (Pop, Klassiche Musik…) auch Technik und Musik! Die sind für Kinder, Erwachsene sowie geeignet, und beides Geduld und Spaß sind auf jeden Fall dabei! Sie können mich gerne kontaktieren!
Eine kurze Biographie von mir:
Abschluss des Bachelor-Studiengangs für Akkordeonspiel bei Prof. Iñaki Alberdi am Conservatorio Superior de Música del País Vasco
(Spanien) und des PPCM-Masterstudiums (Practice Performance of Contemporary Music) in Kunstuniversität Graz beim Klangforum Wien und bei Prof. Krassimir Sterev.
Zur Vertiefung ihrer Studien hat sie an verschiedenen Meisterkursen bei international renommierten Akkordeonisten wie Stefan Hussong, Mika Väyrynen, Janne Rätyä, Alexey Artemiev, Veli Kujala, James Crabb und Mie Miki teilgenommen…
Als Solistin oder Mitglied verschiedener kammermusik-Ensembles trat Mogas z.B. im Victoria Eugenia Theater in der Eröffnungsnummer der Europäischen Kulturhauptstadt 2016 San Sebastián, der Fundació Música Contemporània in Barcelona, Instituto Cervantes de Burdeos, dem Ligetti-Saal (Graz) oder der Oper Graz. Artikulationen aus dem Doktoratsstudium in Graz, dem Mixtur-Festival in Barcelona, dem FAT-Festival in Burgos (Spanien) auf…
Sie ist Mitglied von Ar Duo, Vertixe Sonora Ensemble und Between the Feather Ensemble.
| | |
| --- | --- |
| Instruments | Accordion |
| Genres | Improvisation, Classical, Pop, World, Contemporary music |
| Languages | German, English, Spanish |
| Location | Vienna |
| Teaching levels | Beginner, Advanced |
| Age groups | Children, Adults |
| Rate | 35 Euro / 50 Min. |
| Free trial lesson | Yes |
| Semester discount | Yes |
| Lessons at home | Yes |
| Online lessons | Yes |
| Lessons on weekends | Yes |
| Early education | Yes |
| Group lessons or family classes | Yes |
| Chamber music | Yes |
| Theory classes | Yes |
| Aural training | Yes |
| Rhythmics | Yes |
| Buying advice for instruments | Yes |
| Preparation for entrance exams | Yes |
| Academic degree | Yes |